I know what you might be thinking. Here we go again, another article about increasing the swing speed. Fair enough, a lot of industry experts talk about this quite a bit. Now, there is a reason for that. If you want to hit the ball further and consequentially lower your handicap, you must know how to improve your golf swing speed.
It is just how things work in the wonderful world of golfing. To increase your distances, you have to hit the ball further. That can only happen if you increase your clubhead and ball speed.
I am not saying you have to get to extreme levels of golfers who participate in the World Long Drive Championship. That would be hard to achieve to start with unless you had a lot of time on your hands.
However, if you want to bring your game to the next level, you have to start working on that speed. For example, to carry your ball 250 yards, your clubhead speed should be around 100 mph, and your ball speed around 145 mph.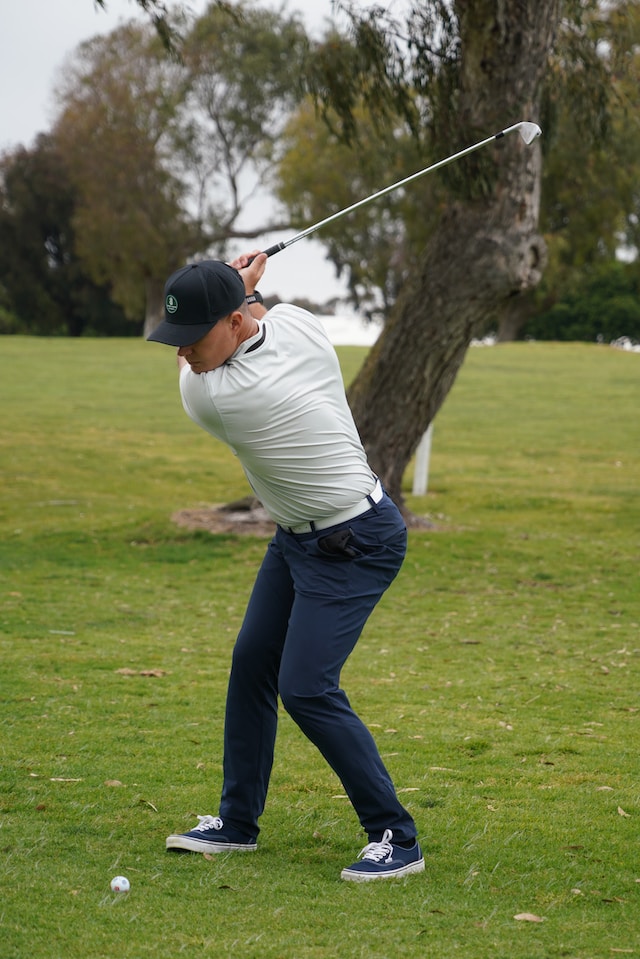 Those numbers will look scary to a lot of average golfers. That is fine, perhaps you are happy with less distance and do not care to hit that ball so far. Nonetheless, if you do want to increase your numbers, there are ways to do it. There are drills you can do to get there, but below we will focus on a few tips that can help you along the process.
1. Know Your Backswing Limit
This might sound weird, but you can easily overdo your backswing. As you can imagine when that happens it does not produce the best swing results. Let me explain why. What usually happens when you overdo the backswing has everything to do with your lead arm. To put it in simple words, if you finish your backswing too late, your lead arm bends in the elbow.
That situation leads to a couple of things. First, once it does bend, it is very hard to extend it to the proper position for the downswing and impact. It just requires too much right timing to do that. Subsequently, because of that, you lose a lot of power in your swing. Less power means less clubhead and ball speed, thus less distance.
The general rule goes that you should finish your backswing at the very moment before your lead arm starts bending in the elbow. That way you will make it easier for the downswing and impact. On top of that, you will be able to produce more swing speed because of more power in your swing.
2. Transfer Your Weight
For me personally, this is one of the most challenging parts of the golf swing. I have seen recreational golfers shift their weight in different ways. Whatever works for an individual is fine. Nevertheless, here I am referring to the textbook weight shift. If you have a picture of professional golfers doing it, you know how challenging that is.
The weight transfer, when properly done, creates a slingshot effect in your swing. With that, you gain more power which brings more clubhead and ball speed. For that reason, it is essential that you do it right in order to hit that ball further down the fairway. Work on it to bring it to a decent level and you will enjoy hitting that ball more than ever.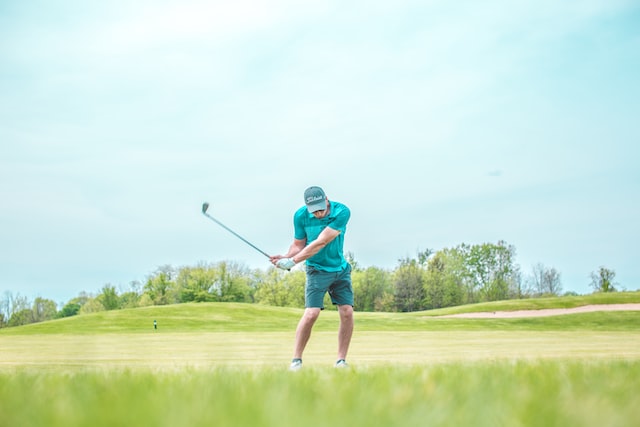 3. Swing With Your Upper Body
One of the most common things recreational gofers do is to swing the club only with their arms. Because of that, there are several areas of the swing that suffer. For one, you guessed it, there is a lack of power. Next, it is harder to control the clubface when the arms are too involved. Then it often leads to poor contact at impact.
The arms should be synchronized with the upper body through the swing. It comes down to engaging the core and having the arms almost locked to the body. When you swing with your upper body you unleash more power for a greater swing speed.
There is a popular drill you can do for that. Put something like a piece of clothing or a tee peg under your armpits and keep it there while swinging. The goal is to keep it under your armpits until you finish your swing without it falling out.
4. Be Relaxed While Swinging
As trivial as this sounds, you should not be overly tense while swinging your club. I am sure you have heard that before, but it is true. If you are too tense, your motions won't be able to work as intended. That will lead to many things that can go wrong when you are hitting the ball, like thin or thick shots, slices or hooks, etc.
Besides that, not being relaxed will rob you of swing speed as well. If you do not let the club release, you will lose potential power and swing speed. A lot of times you will be able to hit the ball further if you hit it when relaxed at a moderate speed. Try it at the driving range, and see for yourself that it can actually work that way.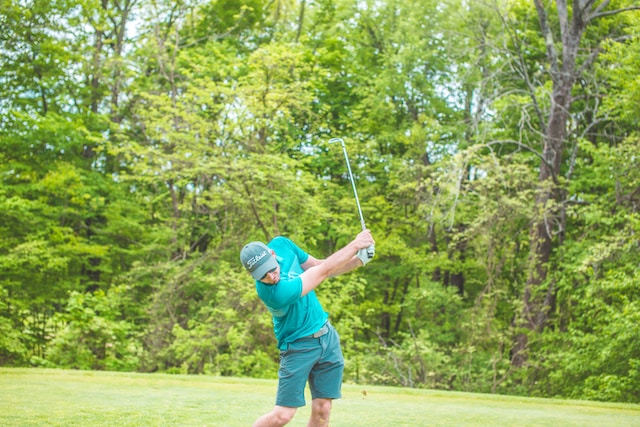 5. Know When to Release the Club
This is so important when it comes to swing speed. Here I am referring to the moment when your club accelerates the most before the impact. If it reaches peak acceleration too early or too late you will leave a lot of speed on the table. Clearly, if you watch professional golfers, you can notice they do it with perfection.
What we are looking for here is the swoosh sound the club makes during the swing to happen at the right time. That is the moment when the clubhead is traveling at the highest speed. Ideally, that happens from the time just before impact until a few feet past impact. Again, it is easier said than done, but it can be achieved with some practice and persistence.
Whatever Works the Best
I am sure no matter how long you have been golfing, you know there is no magic formula that works for everyone. The game is so complex when it comes to the swing motion. Because of that, each and every golf swing is different. For that reason, one thing will work for one, and another thing for the other swings.
In reality, it all comes down to what works best for you as an individual. You can find that out with the help of a golf instructor or you can take your time to discover it on your own. This applies to all the things related to the swing including the swing speed. Find what is best for you, work on it, and hit the ball further than ever before.
You may also like:
How to Create Lag in a Golf Swing – Simple Tips