2023 Bridgestone e9 Long Drive Golf Ball Review
This year Bridgestone came out with a new golf ball, the e9 Long Drive. As the name itself suggests, it is built mainly for one purpose. That is to get as far down the fairway as physically possible. In the new 2023 Bridgestone e9 Long Drive golf ball review, we'll see how it feels to play this ball on the course.
Since this ball's purpose is to go far, it was co-developed with the World Long Drive Association. It features Extreme Gradational core technology.
A fast outer region enhances ball speed. Simultaneously, a soft inner area provides optimal spin control ensuring a steady ball trajectory.
Moreover, the ball showcases a streamlined, 330-dimple cover designed to minimize air resistance and maximize ball speed. That is all you need to smash it a long way.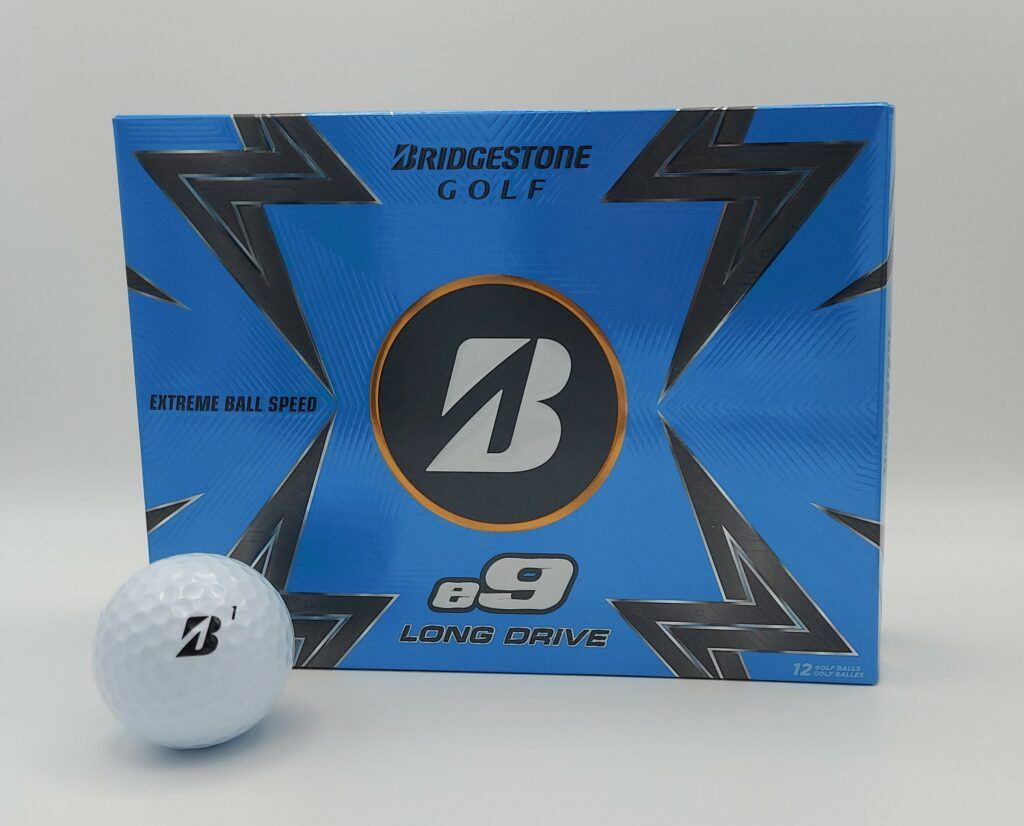 According to Bridgestone, this ball's compression is around 75. That would place this ball into the medium compression category. Now, this ball's objective is to go far. However, I am inquisitive about how it will perform on the golf course. Coming from Bridgestone, I am expecting it to do well. How well it is going to do, we'll find out.
Who Is This Ball For?
The more I read about who the golf balls are made for, the more I slightly changed my opinion. Now, it is not just because of what the experts say. It has also to do with my playing experience. I indeed started realizing that the compression rating of a golf ball does not necessarily determine who should play it.
All that being said, I am starting a new approach to who a certain ball is for. In this case, the medium compression means that the ball will feel softer upon contact. Golfers with higher swing speeds should benefit from it the most. Even golfers with lower and medium swing speeds could play it, as they point out on the Bridgestone website.
You have to remember, that this ball is built to go far. That means the spin will be lower across the board. Yes, it might go further than other balls, but there will be sacrifices made. Most importantly, the short game could suffer more than any other area. Also, you might not be able to shape the shots as you want if you usually do it.
In conclusion, there is one thing that could make you want to try this ball. That reason is if you want to hit the ball as far as possible. It is a niche market two-piece golf ball that might be worth giving a try. The ball is designed for a higher launch and more carry. If you are looking for that, go for it by any means.
PROS
Distance
Higher Launch
Price
Straight Flight Trajectory
Bridgestone e9 Long Drive Golf Ball Review
On the Green
The way the putter was connecting with the ball gave me a soft sensation. Despite the soft feel, it was making a bit clicky sound. That is probably due to its Surlyn cover which is a bit harder than an urethane one. It was nothing overly loud or unpleasant, just a bit different from what I am used to.
On short putts, things were pretty smooth. When it came to the longer ones, things got trickier. More often than not, the ball didn't go as far as I thought it would. Nobody likes to leave the ball short. The part that worked well was the ball holding the line. Wherever I aimed it, it felt like the ball was going there. Overall, putting was a positive experience.
Around the Green
First of all, I have to say the feeling of chipping and pitching was soft. That does not come as a surprise due to the medium compression. When it comes to performance, let's start with my go-to chip shots, bump and run chips. For some reason, I was leaving them short. Must have been a day like that, nothing to do there.
On a bit higher trajectory chips, I was consistently encountering challenges with getting the ball to release more. As with the lower ones, I just kept falling short of the targeted landing area. That most definitely did not help with the ball releasing enough. On top of everything, the lack of greenside spin did not help the cause.
Approach Shots
As I usually mention here, I test the balls on a par 3 course. That means every shot is an approach shot. This ball showed a fairly noticeable decrease in spin compared to what I am used to. That caused a lack of stopping power which often led to the ball rolling out too much after landing on the green.
The higher flight trajectory did help sometimes with the ball stopping a bit quicker on the green. When I took my shots, I could see that it consistently produced a straight and predictable trajectory. My misses were consistent compared to my usual game, so all good there. I noticed, occasionally, that the ball was a bit jumpy off the clubface.
All in all, I had a decent experience hitting this ball, but not as satisfying as it could have been.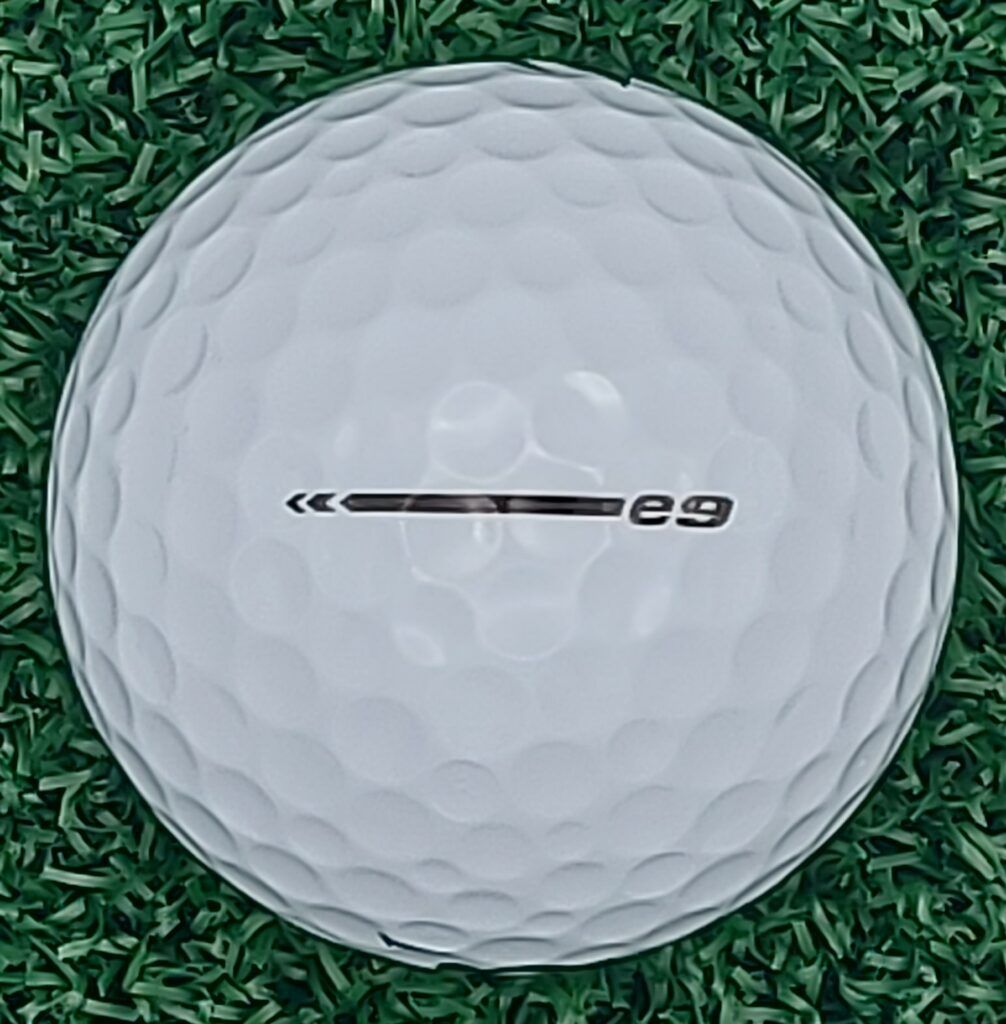 Durability
This ball has shown a very decent level of durability. You might expect that from a ball built to be smashed by the driver. After a full round, there were only a few spots with visible damage. There was nothing too seriously scuffed or marked. Bridgestone has done a good job in this department.
Appearance and Price
When it comes to appearance, it looks nice and clean like all the Bridgestone balls. The 330 dimples are different sizes which makes the cover look a bit asymmetric. To see that you have to look very closely, but there is nothing wrong with it. The alignment arrow is identical to the e6 and e12 Contact models, straightforward.
Considering this ball was developed for a niche market, the price could be a touch lower. Instead of it being the same as the e12 Contact, maybe it could be closer to the e6 price point. Nonetheless, it is still fairly affordable and represents a good value for the money spent. It is available in white, yellow, orange, and pink colors.
Final Verdict
At the end of the day, this is a quality product and a solid choice. That is if you fall into the targeted market, but not only then. It is still a ball that you can play even if hitting it long is not your ultimate goal. As is the case with any ball out there, some golfers will like it, some will not.
You may also like:
TaylorMade Distance Plus Golf Ball Review