This golf ball is one of the most popular among recreational golfers. In the very competitive two-piece ball market, it is possibly the most popular one. Despite its popularity, this is the first time I have tried it myself. I had a general idea of what to expect, but this 2023 Callaway Supersoft golf ball review will let you know how it all unfolded.
Like every time there is a new generation of golf balls on the market, the companies claim everything is better and improved. That is the case this time as well.
The HyperElastic SoftFast core helps with ball speed and a soft feel around the green. When it comes to distance, a very soft feel, and durability, Callaway attributes it all to the Hybrid Cover.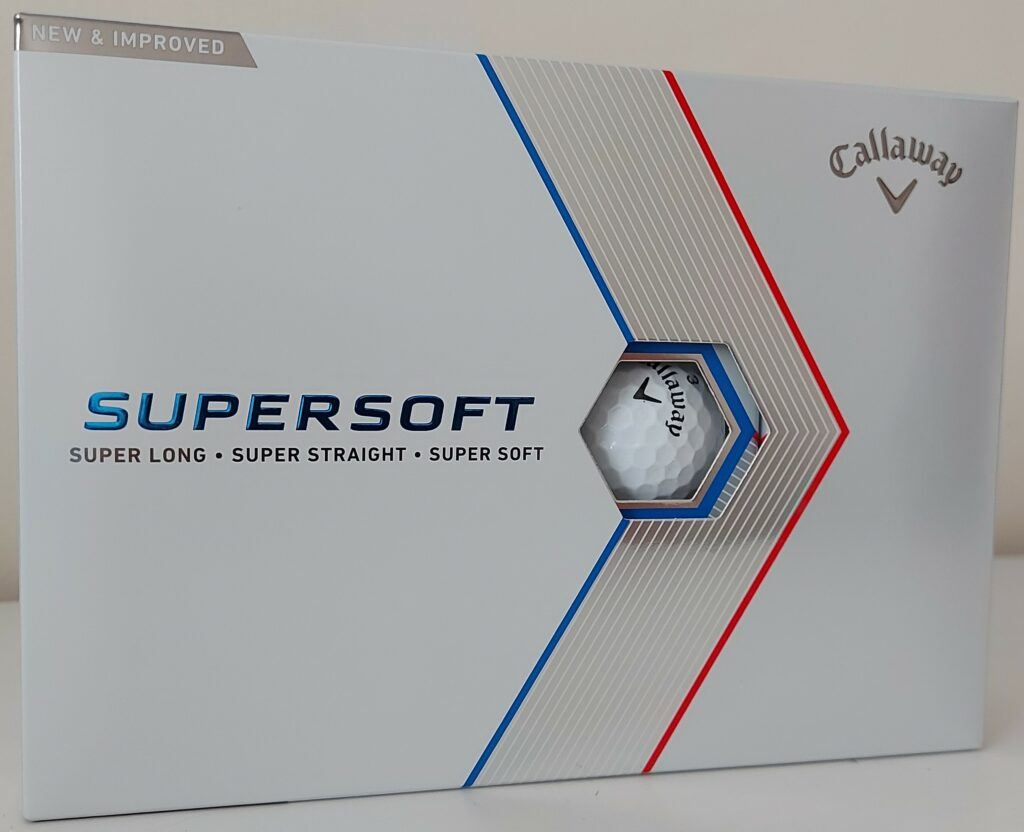 According to industry experts, the new Supersoft compression rating is around 40. That places it among the softest golf balls on the market. It has a lot of fans which makes it the most popular Callaway golf ball next to the premium Chrome Soft. Without further introduction, check below how the ball did on the golf course.
Who Is This Ball For?
There is one thing that immediately stands out when it comes to this golf ball. You guessed it, this ball is soft, very soft. It is not just in the name, it is a fact. What extreme softness means is that it is engineered with players swinging the clubs at slow to medium speeds in mind. That doesn't mean you should not play it even if you swing a touch harder.
Nevertheless, if you are a fast-swinging golfer, you might not get the same results as you would with a ball with higher compression. A softer ball usually means less short-game spin. In case you don't care much about spin and like a nice feeling while hitting the ball, this could be an option. Another thing, the price is reasonable as well for golfers on a budget.
PROS
Distance
Durability
Price
CONS
Less Short Game Spin
Not for Fast Swing Speeds
On the Green
As with every review, I will start from the green backward. My first impression when it comes to putting with this ball was positive. I probably do not have even to mention its softness upon contact with the putter. It produces a very mellow sound that is pleasant to the ear. Now on to the performance.
The things I noticed after a few putts were good pace control. It didn't take me much time to adjust to the intensity I had to hit the ball on putts from various distances. On top of that, the ball was holding the line very well. This goes both for short and long putts. There were no bad points when it came to putting.
Around the Green
Again, the first thing I noticed was how soft the ball fell off the clubface. With this ball that is a given any time you hit it. In general, chipping was on the positive side. That is probably because the bump and run is my chipping style of choice. In that case, the lack of short-game spin does not come as too big of a challenge.
Once I adjusted to how hard I had to hit it for distance control, all was good. Less spin is more noticeable when it comes to higher trajectory chips and pitches. Those situations require a more precise landing for the ball to roll and stop at the right moment. It was still very manageable to obtain decent results around the green.
Approach Shots
Of all the shots, these are my favorite ones. It is mostly due to the fact I test golf balls on a par 3 course, meaning every tee shot is an approach shot. You can already guess it, this ball feels very soft off the clubface. No matter if you do a half-swing, three-quarter swing, or full swing, it just feels soft.
I was seeing pretty much the distances I usually reach. There was not much adjustment needed there. The flight trajectory was higher on average. That was helping the ball to stop on the green due to less spin. I did lose distance on a few mis-hits, which was more my error than anything else.
When it comes to shot manipulation, the ball performed well. I like to hit lower shots on some holes and that worked just fine. My misses were consistent with the regular ones. The flight direction was consistently on the straight side. I had a good experience hitting this golf ball.
Appearance and Price
The new Callaway Supersoft golf ball has not seen major changes when it comes to the look. It looks the same as the previous generation with a minor tweak to the alignment arrow design. Instead of one small arrow at the end of each side of the big line, now there are two. The alignment is very visible and helps if you use it before putts. A clean and simple look gets the job done.
The price was always one of this ball's strong suits. It is not the cheapest ball out there, but its features and performance put it into the good value category. There is a lot of competition in the two-piece soft golf balls category and Supersoft always finds itself among the leaders. That fact speaks for itself.
It is available in white and yellow as well as in matte green, orange, red, and pink.
Durability
Since I hadn't played this ball before, as I mentioned earlier, I had no idea how durable it was going to be. I will just say I was impressed. Of all the golf balls I have tested until now, this one was among the best-performing ones. After a round on a par 3 course, there were barely any marks visible.
It might have something to do with the new Hybrid Cover, the engineers have done a great job. This adds to its great value for money. If you get these golf balls, they will last long.
Final Verdict
Callaway has done a great job with one of its most popular golf balls. The Supersoft new generation has all the ingredients to become one of the best sellers once again. If you were loyal to the previous generation, you will most likely not be disappointed. In case you haven't played it, and like a soft feel durable golf ball, it might be for you.
You may also like:
2022 Titleist TruFeel Golf Ball Review