How to Improve Your Golf Swing for Beginners – 5 Tips
We were all new to golf at some point. Nobody was born a great golfer, except maybe Tiger Woods or Jack Nicklaus. Jokes aside, it takes some time and dedication to become good at golf. Your golf swing is essential to learn when you get into the game. Here you can find 5 tips on how to improve your golf swing for beginners.
None of these tips will give you a magic formula that is going to solve all the things you have been working on to improve.
What the tips will give you are some points on what areas of your swing you should pay attention to in order to improve it. That is going to be a starting point for you toward success.
In its essence, the golf swing is a complex set of motions that come together in one seamless move. The sole purpose of that move is to strike the ball exactly how you want it and direct it where you want it to go.
Now, we often tend to overcomplicate our swing. The sooner you know what to focus on, the sooner you can master your swing to enjoy golfing even more.
1. Know Your Swing Path
Your swing path is vital for a few reasons. First, it might be the cause that your shots are going all over the place. Second, it could be causing that unpleasant slice you have been fighting. The third, and most important thing, if you can manipulate your swing path you are in a position to hit different types of shots.
You should in any case check what your swing path tendency is. The most common one that causes slicing for a lot of golfers is the outside-to-in path. Maybe you fall in the rare category of the inside-to-out path which could be causing pulls. The third option is the neutral path which is, I would dare to say, the least common one.
If you do want to be aware of how you are swinging the club, you could make a video of you swinging from behind. That will show you your tendency. Besides that, you will figure out why you are hitting certain shots more frequently. After you do that you can start working on controlling the path and improving your swing.
2. Shift Your Weight Forward
This is one of the key components for better contact with the ball at impact and hitting the ball further. Not shifting the weight forward can lead to all sorts of trouble with your swing. It can cause mis-hits in the form of fat or thin shots and even shanks. On top of that, your ball will end up much shorter than it actually could.
When you are just starting to golf, this is one of the harder things to do. It might take you some time to learn it, but it will be rewarding once you do. There are several drills you can find out there that can help you with it. The sooner you get a hold of it, the sooner your ball striking will become better.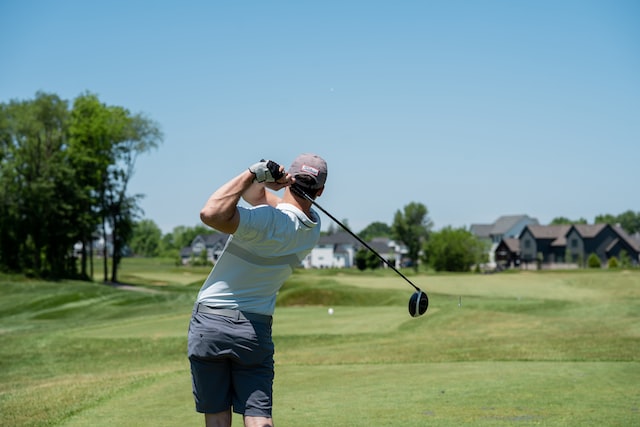 3. Clear Your Hips
There is often a misconception about hip movement during the swing. A lot of recreational golfers slide too much or not enough toward the target without proper hip rotation. Lately, I have seen some good content from experienced golf coaches about hips in the swing. Instead of saying hip rotation they use the term hip clearance.
The main reason it is called clearing hips is that by doing that you make enough room for the downswing in order to shallow the club. Besides the better contact you get out of that, you generate more power in your swing as well. It will be well worth it if you look into it and start working on doing it properly.
4. Forward Club Shaft Lean at Impact
If you have a look at any professional golfer at impact you will notice the forward shaft lean. I bet you've heard this before. There is a simple reason you will keep hearing it from golf coaches and industry experts. That is the proper way to compress the golf ball at impact and get the maximum distance out of your club.
What forward shaft lean at impact does is de-loft your golf club. It basically turns your 9 iron into an 8 or even a 7. It is one of the reasons professional golfers can hit the ball so much further with all their irons and wedges. The key thing here is going to be your wrists' position through the downswing which will help with the shaft lean.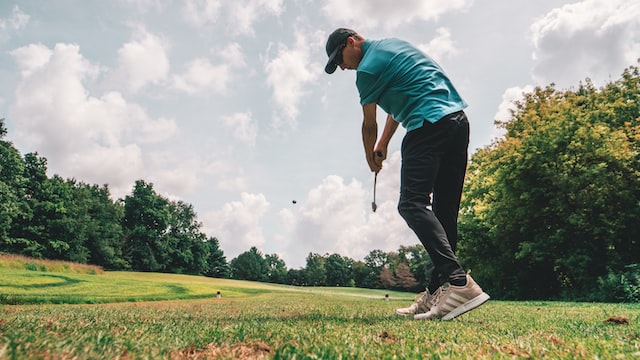 5. Keep the Shoulder Tilt
This is the vital component for keeping the relation to your golf ball. By doing it properly you are helping all the other parts of your swing to fall into place. All that will lead to better contact with the ball for a solid golf shot. Not doing the shoulder tilt often leads to bad shots in the form of thick and thin ones.
What you have to pay attention to is for your lead side shoulder to stay below your trail side shoulder during the backswing. After you transition into the downswing the shoulders will reverse their roles. Your trail side shoulder will be below your lead side shoulder. It might feel a bit strange in the beginning if you are not used to it.
One Change at a Time
I always like to repeat this whenever I have a chance. When you start working on swing changes do one single thing at a time. The swing is complex enough even without us trying to change multiple things at a time. Working on one element will help your body to adjust to the changes better and in a shorter period of time.
Nevertheless, that does not mean you will be able to change something quickly. It will still require time and effort to do it. Always start small and slow before making it to full swing and speed. Another thing that is recommended is to do some reps without the golf ball before trying to hit it.
Even when you introduce the golf ball do not worry right away if you mis-hit it. It is part of the process. Your body has to adapt to the new move first, then you can start hitting the ball properly. All in all, diagnose what part of your swing you have to work on first, then take one step at a time. Swing it better for more fun on the golf course.
You may also like:
Golf Swing Basics for Beginners – How to Learn It Right