Golf Equipment for Beginners – 5 Tips to Stay on Budget
Starting something new is exciting, starting golfing can be both exciting and overwhelming. By overwhelming I mean the amount of stuff to learn and all the equipment that goes along with it. It is all about having a good time. To avoid overspending, there are cheaper solutions in order to get golf equipment for beginners.
All you should think about in that period is to have fun and learn at a pace that suits you. Not everyone will become a great player overnight, it will take time and dedication. For that reason, it does not make too much sense to buy expensive equipment when you do not have your game developed enough.
While you are learning to hit the ball properly, it does not really matter how expensive your equipment is. Once you master the essentials you can start thinking about getting the more advanced stuff. In the meantime focus on improving and having equipment that will serve the purpose for the time being.
1. Second Hand Is a Good Start
Golf is an expensive sport, that is a fact. The big brands release new equipment every year claiming it is better than the old one. In some cases that is true, but you can still play with some older clubs. This is especially the case when you just get into golf. At that point, it does not make a big difference how expensive your clubs are.
When you are getting acquainted with the game, all your focus should be on getting the basics right. For that reason, the second-hand golf clubs market is a good place to purchase some equipment. You can buy beginner-friendly clubs a few years old for way less than a new set. If you are in a position to get free older clubs from someone you know, even better.
Once you master the basics and you can hit the ball solidly on a more consistent basis, it is time to shop for some clubs that suit your game. Even then you can buy a new set that is a couple of years old for a better price. You can also go for a fitting and have your existing clubs slightly adjusted to improve your game without buying new ones.
2. Clothing Doesn't Make a Golfer
Again, like equipment, golf clothing is not the cheapest one. It will not contribute to your game by any means. You will not become Tiger Woods overnight just because you are wearing the same clothes he does or any other professional golfer does. The only exception is golf shoes. They will help your game by giving your swing more stability.
We live in a time when more people than ever are getting into golfing. That means a lot of different profiles of people. Times have also changed, and more golf courses are relaxing their dress code. That translates to a lot of places you can go to play without having to wear traditional golf clothes.
There will always be country clubs with a stricter dress code and that is fine. However, you have a choice to play on a course where you can come in some casual combinations. This does not mean beach-ready or anything like that. I would recommend checking the dress code of the course where you are going to play in any case. If it does not suit you, find the one that does.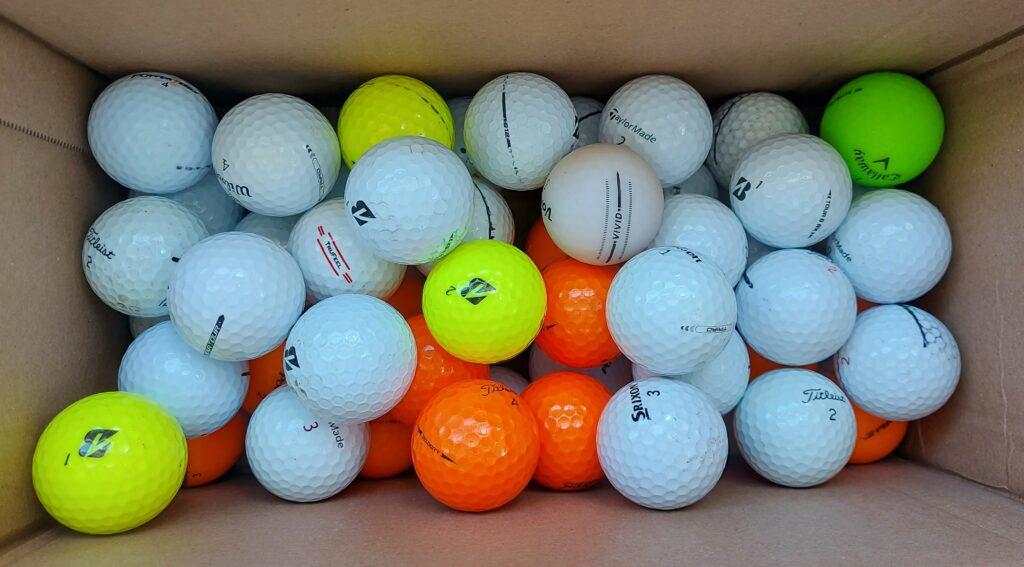 3. There Are Solid Golf Balls on Budget
The golf ball is the only piece of equipment you use on every single stroke when golfing. Keep that always in mind. Also, keep in mind you will be losing some balls from time to time. That is going to be the case, particularly in the early days when you start golfing. For that reason, you should not overspend on golf balls in the beginning.
The golf ball market is big, and it offers balls for all types of golfers. That includes cheaper options. Those options do not have to be bad by any means. There are a lot of very solid golf balls for less money out there. Get some of those ones so you do not have to stress out too much when you hit one into the bushes or into the water.
Now, coming back to the point above. The time will come when you will want to find a ball that suits your game the best. That will most likely happen once you get to a more consistent level. Then you might want to look into some premium golf balls. Until then stay on budget and keep working on your game.
4. Get Only the Essential Accessories
Because of the nature of golf, there are many accessories you can use while playing. Most of them are useful and can help you improve your game. On the other hand, there are some that are more of a luxury than anything else. What you really need in the beginning are the accessories that will indeed help your game.
For example, you should have a towel, a pitch mark repair tool, a ball marker, and a glove. Additionally, you can have a GPS phone app that can help you check the distances on the course. There are a lot of free or inexpensive apps out there, or you can get a cheaper range finder. Another handy tool would be a brush to clean the grooves on your clubs.
There are so many golf bags offered on the market and most of them will do the job just fine. You definitely do not need a staff bag or any other overly expensive one. Also, there are wireless voice caddies you can get which will cost a bit of money. As I mentioned above, a simple app will do in the early days.
5. Walk to Experience the Course
This part will depend on your shape to walk the course. If you do not have to, try not to rent a power cart every time you golf. Yes, it can be practical, but the on-course experience will be better on foot. That way you can actually feel the course and soak it in. Each time you walk it you will know it better which will benefit your game.
You don't even have to carry your bag. There are a lot of different push and pull carts available. Once you buy it, you can use it every time you golf. That will save you a lot of money long-term vs renting power carts. Both your health and your course management will benefit from you walking while golfing.
Time Will Come to Spend Big
After some time when your skill level increases, it will be time to upgrade your equipment. You will look for better balls and better clubs. That will be the time when those more expensive purchases will make more sense. You will be able to utilize better equipment in a way that fits your golfing style. It will be time to spend the big money.
This does not mean you will have to buy the most expensive equipment, but you could definitely buy something better. Golf equipment is improving more than ever and you should take advantage of that at the right moment. Finally, learn to play and enjoy the game first, that is the most important part.
You may also like:
Basic Golf Etiquette for Beginners – How to Behave on the Golf Course