There is one thing I have noticed while I'm golfing that is related to my golf swing tempo. Every time I swing faster the results are not good. By faster I mean I try to "kill" the ball in order to get it further. That is when my worst shots happen. If you are experiencing bad shots, it could be related to the tempo. The golf swing tempo drills you can find in this article can help you with that.
If you watch professional golfers play, you can notice they always hit the same shots with the same intensity. The reason is their swing tempo is excellent.
There is a flow to the golf swing and a better tempo will bring a better flow. When the flow is good it results in a better strike and ultimately a better outcome.
A good tempo will help you execute all the swing elements properly. It will give your body time to connect everything from the takeaway to the follow-through in one seamless motion. That will produce a solid contact and help prevent slices, hooks, or shanks. The swing tempo is often overlooked at the recreational level, but it is very important if you want to bring your game to the next level.
One and Two Drill
This is the drill I like to use because it is simple and effective. It is a drill I encountered on the Chris Ryan Golf Youtube channel. The drill does not require you to have anything else besides your golf club and golf ball. All you have to focus on while doing the drill is counting out loud or in your head, whichever you prefer.
Get a mid iron of your preference and set up as you usually do without the golf ball
You will start counting on your backswing and finish around the impact
When you start the swing, on takeaway you say "One"
At the top of your swing, you say "And"
The moment you hit the ball you say "Two"
Do not rush it, just count at moderate speed: one, and, two
When you are comfortable, introduce the ball and repeat the drill
This drill is easy to do and it will give you a better feel for your swing tempo. If you are interested, you can check Chris Ryan's Golf Youtube channel to find more great content.
1, 2, 3, 1 Drill
We are moving forward with another numbers drill. This one is very popular and you can find it everywhere. It is as simple as the one before with the same purpose of giving a nice tempo to your swing without rushing it. The whole concept of the drill is based on the fact that the optimum swing tempo ratio is 3:1. That means that your backswing should last three times longer than your downswing.
Pick one of your mid irons and set up without the golf ball
When you start the backswing count from one to three until the top of your swing
From the top of your swing, you should only count one until the impact
Once you are comfortable, introduce the golf ball and repeat the drill
Both of these drills are also good to keep you from swing thoughts. You can do them actually when playing which will help make your swing smoother and prevent your mind from thinking about multiple things while swinging.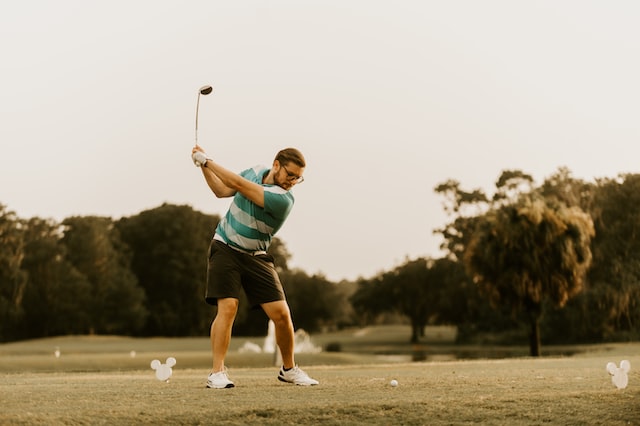 Swoosh Drill
This is an unorthodox drill in the way that a variation of it requires you to hold your club upside down. The main goal of the drill is to have you produce a swoosh sound while swinging the club. Another important part is when the swoosh is made and that should be just around the impact area, not before or after that.
Take one of your irons from your bag
Turn it upside down and grip it just below the clubhead
Make swings with the butt end of the club swinging above the ground
The swoosh sound should happen around the impact area where the golf club would be
This drill will help you add balance to your swing and help you hear at what point you should release your club. Alternatively, it can be done with a driver by you just holding it usually and swinging it above the ground.
Golf Swing Tempo App
As you can imagine there is a number of drills you can do to work on your swing tempo. Besides the conventional drills, there are also apps for phones you can use to work on your tempo. This includes apps made for the swing tempo only and apps that include a swing tempo segment or are complete golf swing analyzers.
Depending on how deep in analytics you want to go, there is an app for you out there. It is a good way for you to get audio or visual assistance while practicing your tempo. You can use apps as the only way of working on your tempo or as an additional way. Whichever option you use will help you improve.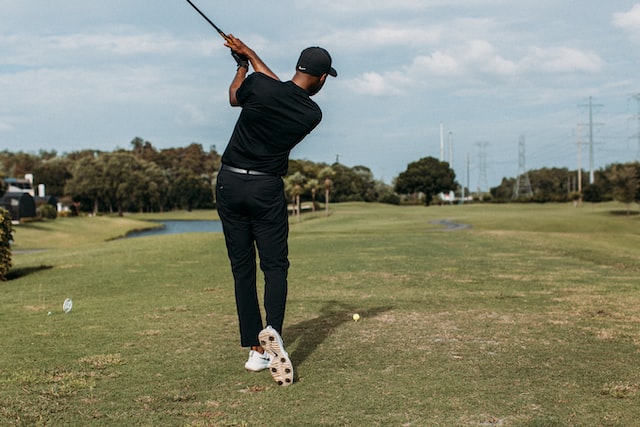 Relax and Get Better Results
Too much tension in your swing can lead to bad outcomes. You should relax to a point where you can still execute the swing properly without losing speed or power. However, do not relax too much the way your club flies out of your hands or you lose your structure. A good tempo will help you to relax more and improve your swing.
Something that can help you relax while swinging is having fewer swing thoughts. I found that to be efficient in my case. If anything I just think about having a good tempo just before I swing the club. That could work for you as well, give it a try. At the end of the day always try to have fun on the golf course no matter what.
You may also like:
How to Get a Consistent Golf Swing – 5 Tips for Beginners