There are so many golf balls on the market, that is a fact. It is also a fact that when you start golfing you do not necessarily know what you are looking for. That is the case with most golf equipment and especially balls. If you are lucky, you have someone who can help you with the choice. For the rest, you can check the best 2022 golf balls for beginners list.
Now, the ball will not magically make you a better golfer. That being said, it can help you gain a bit more distance. I will single out distance alone because when you just start playing that is what you need the most.
Your skills will improve with time and you will also start looking at other segments of the game. You will want more or less spin, a softer or harder feel, and so on. For now, we'll mainly look into distance, price, and quality.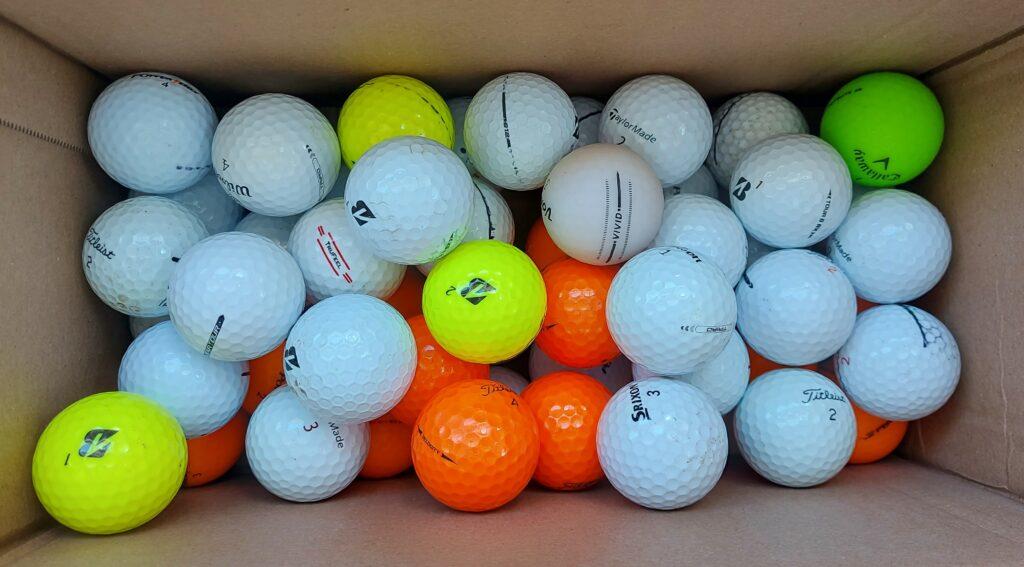 All the balls on the list below fall into the two-piece recreational balls category. In general, there are only a few things different between them. The main one is the compression rating which separates them the most. Without any further introduction let's see which golf balls made it onto the list.
Read more

: Best 2022 Golf Balls for Beginners – Find Your Match
Bridgestone e6
This ball falls among the balls with the lowest compression on this list. It also falls among the lower-priced ones among the bunch. It gives a soft feel both on and off the green.
The intended customers for this ball are golfers with slower to moderate swing speeds. For that reason, it is a solid choice for beginners.
All in all this ball is a decent overall performer. Its strong suits are distance, appearance, and price. While there are many positives, there are also a couple of negatives. One is distance control due to the lack of spin which gives it less stopping power. The other one is durability which is just average. It is available in white and optic yellow.
Callaway Supersoft Max
Now, there is something very unique regarding this golf ball. It is its size. As the name itself says it is an oversized ball. It is a large version of the Callaway Supersoft golf ball.
If you are wondering if this golf ball is legal, it is 100% legal. Its size is the maximum allowed by the golf governing bodies. The size is also the ball's strongest selling point.
It is a ball with a very low compression which along with the size makes it extremely beginner friendly. Besides that, it goes a long distance and the price makes it affordable. When it comes to durability, it is just ok with some room for improvement. In case you are making your first golfing steps, this easy-to-hit golf ball might be a good option for you. The ball is sold in white and yellow colors.
Srixon Q-Star 6
The fact this ball has been around for six generations so far says something. It has a medium compression rating which makes it suitable for golfers with medium swing speeds.
When it comes to performance this ball is solid across the board. One of the first things beginners want is distance and this ball does provide that.
There is a slight concern with this ball, it seemed not as durable as it should be. On top of that, it falls among the more expensive balls on this list. In conclusion, if you want a good-performing ball and you are not on a budget this could be a ball for you. It comes in pure white and tour yellow colors.
TaylorMade Distance+
As you can guess from the name itself this ball is all about distance. It is not only in the name, this ball delivers when it comes to distance. Everything else comes secondary.
That being said, it will not provide you with any special capabilities. Honestly, when you just start golfing distance is all you need. Everything else will come with time and practice.
Like some other balls on this list, its durability could be improved. When it comes to price, this ball is among the cheapest ones here. That is exactly what you need assuming you will be losing balls here and there. Its compression rating puts it into the medium category which should suit players with medium swing speed. TaylorMade offers this ball in white and yellow colors.
Titleist TruFeel
Titleist specifies this is the softest golf ball they offer on the market. That translates into a very soft feel and optimum performance for golfers with slower swing speeds.
Since a lot of new golfers in the very beginning have slower swing speeds, this ball comes as a solid option. Its low compression rating helps it go long distances at those speeds.
This ball is not the most durable in the Titleist lineup. Nonetheless, it is still very good compared to a lot of other balls in this category. Price-wise, you will not find anything cheaper coming from Titleist. Its affordability gives you the opportunity to play with a ball from the industry leader. Besides the usual white and yellow, this ball is also made in matte red color.
Find Your Ball and Have Fun
You are just starting your golf journey. Sometimes you have to remind yourself that golf can be both frustrating and fun. This is especially going to be the case until you spend some time playing and practicing. Honestly, it is always going to be like that no matter how much experience you have or how skilled you are.
Finally, finding a good ball fit makes the journey a bit more enjoyable. For that reason make sure you get one that will fit your game. With time as your game evolves, you can change to a more suitable one. No matter what ball you end up with, always remember to have fun while golfing.
You may also like:
Choose the Proper Golf Ball – It Can Affect Your Game