Best 2022 Golf Christmas Presents – The Shopping Guide
We are getting close to the winter holiday season. In case you have a golfer among your family members or friends, they will always appreciate a nice golf-related present. It can be overwhelming and time-consuming to find the right gifts. For that reason have a look at the shopping guide to find the best 2022 golf Christmas presents.
Golf is very unique when it comes to equipment and accessories. A lot of it is customized for the individual. However, there are still items that can be purchased without fear of buying the wrong thing.
Golfers love their accessories, that is a fact. Luckily for you, there are plenty to choose from. Not only accessories but also essentials like golf balls with many options on the market. This guide will narrow your options and make the buying process a bit easier.
Ball Markers and Divot Tools
Ball Markers
They fall into both accessories and essentials categories. It is a gift with which you can't go wrong. Every golfer who plays even just for fun should have a ball marker. Some have more than one.
You can rotate them and use a different one each round. There are some choices with various themes out there to choose from. They are usually on the cheaper side which makes them suitable as a gift.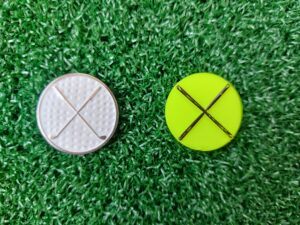 Divot Tools
These accessories often come on their own or in a bundle with a ball marker or some cleaning tools. They come in handy to repair pitch marks on greens which is the right thing to do.
Unfortunately, this is one of the items not all golfers use even though they should. For that reason makes a good gift, especially if the person does not own one already.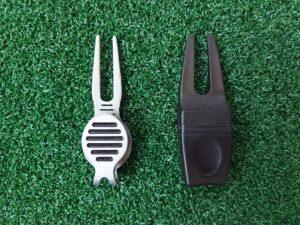 Towels and Cleaning Tools
Towels
The most versatile item in a golfer's bag is a must-have. It cleans everything from golf balls, clubs, or shoes. I am sure every golfer out there owns at least a couple of towels.
They are perfect gifts because you can't have too many. If you play more often it is good to have a few to rotate. There is an abundance of them on the market with a lot of different themes.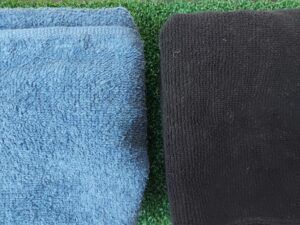 Cleaning Tools
As the name itself explains, these accessories help to maintain the clubs and shoes. There are all sorts of small, medium, and large brushes out there to choose from.
Some of them come with clips to hang from the bag, and others can easily fit in a pocket. There is no shortage of options on the market and they are usually not that expensive.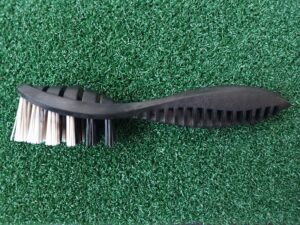 Golf Balls
When it comes to golf balls it is good to know the player's preference. It could be premium or recreational balls. Additionally, it could be a specific compression rating that affects the ball's performance.
Before you go and buy a golf ball, try to find out if there is a specific model you should be looking into. It makes a difference which ball a golfer plays. Research can save you from getting into trouble for buying the wrong one.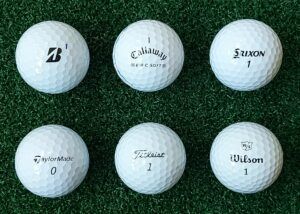 Rangefinders and GPS Watches
Rangefinders
Besides launch monitors rangefinders are among the most expensive golf-related gadgets you can buy. If you do not have a budget limit you can definitely shop in this category.
There are a lot of brands on the market, from cheaper ones to very expensive ones. It is a very handy tool to get your distances right on the course. The person who gets one will be very grateful.
GPS Watches
Another pricy item you can gift someone. They can be cheaper than rangefinders but also as expensive. Their task is to provide distance info and some additional data if the model offers that.
It is a smaller gift but as fancy as it gets. The size makes this gift very practical. There are multiple brands to choose from, some more expensive than others.
Headcovers and Tees
Headcovers
As far as fun gifts in golf are concerned, headcovers are right up there. This usually includes drivers, fairway woods, hybrids, and putters covers. There are irons covers too, but to be fair not many golfers opt for that.
Driver covers are the most popular ones by far. There are so many options to choose from. Some are more classic, others very different and creative. You can buy anything from sports-themed covers to animal-themed ones.
Tees
Now, these items sound the most boring. The truth is they are boring. However, they fall into the essential item category. It would be hard to golf without teeing up the ball.
Tees are accessories that have the shortest lifespan in the golf world. Therefore, they make for a solid present choice. Maybe try to pair it up with something else if you decide to buy them.
Gift Cards
Don't worry, if you can't choose among numerous options there are always gift cards. Personally, they are my favorite gift for a golf store. This way you can be sure the person will buy exactly what is needed without fear of a bad gift. Nowadays it is even easier since you can use them both online and in-store.
Make Someone's Day
If you are reading this article it means you have already decided to buy a nice present to surprise someone. That is a very nice gesture and the person will appreciate it. If you are a golfer as well, then you know how much golfers like all the accessories and gadgets. I can relate to that and every time I walk into a golf store I feel like a kid in a toy store.
With so many things to buy it makes choosing something easy and hard at the same time. You do not have to go crazy, but do a bit of research before you decide what to buy. Find out the person's preferences or if they need something specific. It is all going to be worth it when the time to unwrap the presents comes.
You may also like: